Press
Exercising at work has multiple benefits
The benefits of exercising at work are greater than just losing weight and improving your health.
People who exercise before or during work are
happier,
suffer less stress
and are more productive.
This is the gist of a study performed at the University of Bristol. See Article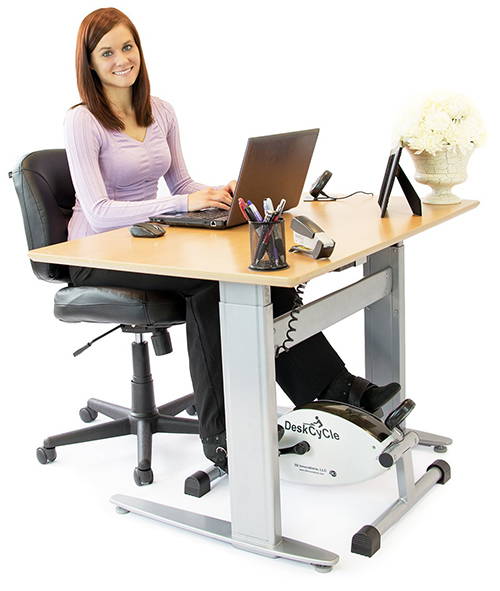 Exercise doesn't have to be torture
Most people are aware of the benefits of exercise and the risks of inactivity, yet they still find it difficult to incorporate physical activity into their lifestyle. They can't seem to find the time or motivation to exercise.
The two most popular solutions to this are the Mini Exercise Bike and the Treadmill Desk. They both let you get healthy exercise while working at your desk. Pedaling or walking slowly doesn't feel like exercise and you don't work up a sweat at the slow speeds. Yet the increased calorie burn over time really adds up.
The mini exercise bike
Mini exercise bikes, like the MagneTrainer, work well if your desk is tall enough. They let you exercise while you work on your computer, talk on the phone or nearly any other activity at your desk. Desk exercises: The mini exercise bike
Mini exercise bikes were not designed to work under the average sized desks, their pedals are too high. If your desk isn't tall, your knees will hit the desk when you pedal. Also, the majority of the pedal exercisers (another name for mini exercise bike) use friction for the pedal resistance. Friction resistance tends to cause jerky pedal motion which distracts you from your work. They can also be noisey which will distract your coworkers. The MagneTrainer has a patented magnetic resistance mechanism that provides smooth, quiet pedal motion. However the pedals are too high for shorter desks.
The DeskCycle
The DeskCycle was developed by 3D Innovations to overcome these problems. It was designed specifically to be used for exercising at desks in the workplace.
The maximum pedal height of the DeskCycle is only 10 inches. This is 5 inches shorter than the MagneTrainer. The DeskCycle has the lowest pedal height of all mini exercise bikes. This low pedal height enables is to be used under desks as low as 27 inches by the average person.
The DeskCycle uses the same patented magnetic resistance system as the MagneTrainer, which provides smooth pedal motion and quiet operation that won't disturb you or your coworkers.
Advantages of the DeskCycle over treadmill desks
The treadmill desk is an excellent invention and the brainchild of Dr. Levine, author of "Move a Little, Lose a Lot". Treadmill desks are an excellent solution for getting exercise at work. But they are not for everyone.
DeskCycle is less expensive
Typical treadmill and desk solutions are between $1000 and $2000. Some are over $4000. The price of the DeskCycle is $159.
The deskcycle is less distracting
It's easier to keep your upper body still when using the DeskCycle than it is walking on a treadmill. When you walk on treadmill, your whole body goes up and down. When you use the DeskCycle you only need to move your legs. The pedal motion of the DeskCycle is very smooth. This is due to the patented magnetic resistance mechanism.
About.com reviewer Wendy Bumgardner said the following in her review. Her full review is here.
"I did not get any motion sickness while using the DeskCycle, which can be a problem for me on the treadmill. A stable sitting position meant no up and down motion for my upper body that could affect my ability to focus on my computer screen."
Dr Lucas Carr used our MagneTrainer in a study involving exercise at work.
"At the end of the four weeks, the volunteers overwhelmingly said they'd use a machine if they could, and that it didn't affect their productivity or work quality. They also found it was easy to use and an alternative exercise option during bad weather." The full story is here.
The DeskCycle works with existing desks
Treadmills require standing desks or special treadmill desks. The DeskCycle can be used at a desk as low as 27 inches by the average person. See DeskCycle features for more details.
The deskcycle doesn't disturb your coworkers
The deskcycle operation is smooth and quiet so that it doesn't disturb your coworkers. Treadmill tracks make noise and walking on them makes additional noise.
Treadmills take up a lot of room
When you are done using the DeskCycle you just take your feet off of the pedals and place them on the floor. When you are done using the treadmill it can be difficult to find a place to sit. You also have to be careful not to trip over it.
Cycling is low impact
Cycling is lower impact than walking. Magnetic bikes like the DeskCycle and MagneTrainer are used for knee therapy. The smooth pedal motion is healthy for your joints. In addition you can pedal the cycle backwards as well as forwards. This is a common technique used by physical therapists to promote muscle balance.
You can't fall off of the DeskCycle
You don't have to worry about falling off of the DeskCycle when you use it.
The top 5 injuries that people suffer from walking on the treadmill are 1) Plantar fasciitis, 2) Low back pain, 3) Shin splints, 4) Falling off the machine, and 5) Neck strain. See article.
Not everyone can stand for hours at a time
3D Innovations CEO Kevin Colburn says "I used to walk for an hour every weekday, 30 minutes in the morning and 30 minutes at lunch. I did this for years and would reccommend it to anyone who has the opportinity. However, in spite of the streatching, my back muscles would tighten up during the walk. If I am on my feet for more than a couple of hours my back aches. This doesn't happen when I am sitting or riding my mountain bike." According to the article references in the previous section, lower back pain is the 2nd most frequent injury from those who use a treadmill.
You can burn more calories while working at your desk
The DeskCycle has 8 levels of resistance. As your legs get stronger you will be able to increase the resistance which will increase the number of calories you burn. In addition you can build up muscle that will improve your BMR. An increased BMR means means you burn more calories all day long, even when you are not working out.
The press contact page is located here.