DeskCycle Reviews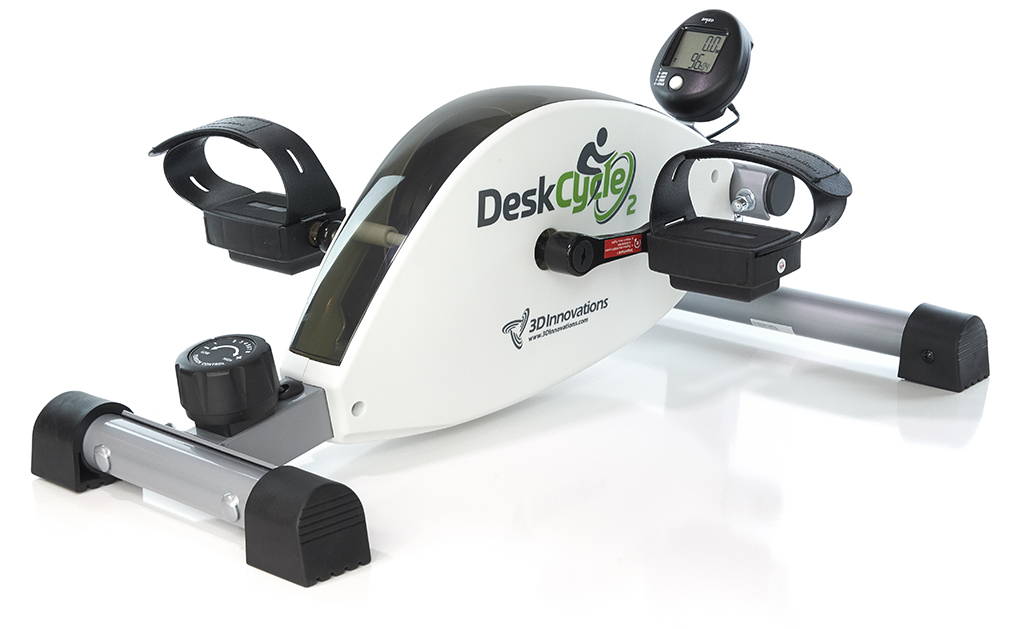 I just wanted to send this email to whomever should see it... I bought the desk cycle and this product is AMAZING. I'm 27 years old and 13 months ago I suffered a stroke. Before my stroke I was doing spin classes 3-5 times a week. It was an escape for me. I loved the way it made me feel and loved the difference in my attitude. After the stroke, I didn't think I would ever be able to successfully spin the way I was before until I bought this!! I work 42 hours a week at a desk job and this product has changed my life... I constantly find myself spinning at work, burning hundreds of calories, feeling good and energized. Even my co-workers want to buy one.
Thank you!!! for making such a great work out machine that doesn't break the bank... I will tell people about this until I am blue in the face.


I was very impressed with how smooth and silent it was.
I found the DeskCycle to be an excellent solution for both for getting a cycling workout and decreasing your sedentary time. Turn your sitting time into active time. The manufacturer provided a sample for me to use to review, which I purchased after giving it a try-out. It fits perfectly into my workstyle and takes up no space in my office. Read full review
- Wendy Bumgardner, Reviewer for About.com


I love this bike for my office!
I'm a RN and sit on the phone all day long and my BMI (Body Mass Index) is too high. Most people's are that sit but with the desk cycle it's easy. I love the versatility with it as you can adjust the tension and the ride is smooth. It has a feel of a more expensive bike.


So far I am extremely pleased with the Deskcycle. It is a very high quality product, the pedaling is butter smooth and it's just overall solid. I tried a cheaper pedal exerciser and there is NO comparison - you get what you pay for. I sit at a desk for 8-9 hours a day. Time will tell how the Deskcycle holds up to regular use, but so far I am LOVING this. I am having no issues putting 40 miles a day on this thing. IT WORKS!

UPDATE 10/4/2017: I've had this for over a year now. I don't use it as much as I did when I originally purchased it, but it has held up perfectly - no issues whatsover. It's still smooth and whisper-quiet. This is a high quality piece of equipment - just make sure you have enough room for your legs.
- Mister P (Amazon Reviewer)


I had such high expectations for my DeskCycle and they have been far surpassed! I love my new "bike"! It is perfect for work, gives a fantastic resistance, and the desk display is wonderful. I could not be happier. Thank you so much for creating a wonderful option for people who are confined to a desk all day.


I absolutely love the desk cycle!!!
I absolutely love the desk cycle!!! I also run, but have difficulty working it in, except on weekends. It's great being able to cycle while sitting at my desk, since I'm at my desk up to eight hours a day anyway. Again, I love it and would recommend it to anyone.


I bought a very inexpensive under desk pedal a few weeks ago. It had next to no tension and my knees hit my desk. This one is pricey, I was skeptical on spending $160. It came in today (I ordered it Monday) and I LOVE IT! My knees do not hit the desk, it is really sturdy and so quiet. All the pieces are enclosed with a case so it does not catch my pant legs. I have it on tension 5 (it goes to eight) and I am working up a sweat. I know it is only day 1 but I am already glad I bought this.
- M. Vinyard (Amazon Reviewer)


I'm a freelance bookkeeper and I've emailed the Amazon link to all my clients and friends I think would benefit. What a lifesaver as I used to refer sitting in my chair all day as "just sitting here with my blood pooling" because that's how I felt!!! I also have a treadmill desk I set up, but that isn't as convenient as this because it really is hard to walk all day (legs hurt) and for that I still need my sitting desk for when I'm fatigued, so I feel like the DeskCycle is a better solution in many ways.


My upright exercise bike locked up and, since it was both uncomfortable and noisy, I was intrigued by this model -- and encouraged by the reviews reporting that it was quiet and easy to assemble. I was happy to have the same experience. Assembly is clear, simple, and quick. I am still amazed (and delighted) by the fact that it is virtually silent, which is very important for condo / apartment environments with poor acoustic insulation. I no longer worry about annoying my neighbors with my exercise routine, and I love the portability -- I am no longer confined to a single place in the house.
- "avi8rix" (Amazon Reviewer)


This is an awesome purchase. I am addicted to this thing. I use it at my desk during the day and then bring it in to the living room at night and use it some more. I can easily burn 500-1000 calories in a day using this. It is much easier in front of the TV, because my keyboard drawer gets in the way while I am working, but you cannot go wrong with this purchase. It is impossible to hear a single noise from it...it is so very quiet. It is very smooth pedaling too. I work at a hospital and I have even gotten some of my nurse friends to buy this. I think we all love it!
- Debbie Davis (Amazon Reviewer)


I bought this for my mom after researching this for quite some time. My mom is 84 and the doctor wants her to walk more. She uses 2 canes to get around. I bought this because it is very heavy and won't move forward due to the momentum. It is also very quiet so she can watch tv and cycles each day for about 30 minutes. The DeskCycle is also low to the ground so she doesn't have to lift her legs to get them on the pedals. She says it is helping with her circulation and that is all I need to know.
- Beancounter (Amazon Reviewer)


Awesome, Quiet, Smooth Resistance at a bargain
This is simply one of the best inventions out there. This works great, and quiet in my office. I can peddle the pounds away all day on this. I have it set to level 3 and I find that for now it provides just enough burn so I am not over heating at work. I keep a desk fan pointed at me to keep me from sweating. Simple and outstanding value! I am so pleased to have this, it might be a life saver for those of us confined to the office.
- David Sandbeck "hallgrd" (Amazon Reviewer)


Just what I was looking for!
I was looking for a good way to help me get more cardio without needing to sit around bored on cardio equipment. This is perfect. It was easy to put together, very comfortable to use, and didn't move. When combined with the velcro strap, even my rolling computer chair on a laminate floor stayed in place just fine. I managed to get in an extra 3 hours of low intensity cardio yesterday while I was working on my computer! I'm very glad I made this purchase, and I would strongly recommend this product to anyone looking for a convenient way to get in cardio, or just to keep their legs moving and burn some calories while working/you tubing/gaming/etc. I'm willing to bet that if everyone with a desk job had one of these to use for a couple hours a day, even at very low intensity, it would go a long way towards curing our obesity epidemic.
- Chuck (Amazon Reviewer)


Maybe everyone should have one of these?
This is exemplary of the type of thing you never thought you needed (or ever thought of at all) until you had one and now you cant imagine going back. I have a fairly active job but also odd hours (the joys of working retail) and in general never really feel like I'm as good of shape as I'd like to be or have the time to really devote to going to the gym. Honestly, even if I had all the time in the world I still imagine I would not exercise as much as I probably should. What I really like to do is play videogames, I wont even try to hide that fact, but I often feel like my favorite pastime, while maybe not detrimental to my health, is definitely not doing anything to improving it. With this I play videogames, I bike at the same time. I love the multi-tasking aspect of this. I feel like videogames engages my intellect and this engages my body. Both get exercised and I feel better afterword! I often hardly notice how much I've biked until hours later when I turn the game off and stand up. Again this is really the best of both worlds to me and I absolutely love it. I would recommend this for anyone who is sitting for long periods of time (games, tv, work, etc?) For this specific product it is very sturdy, and VERY well built, it is the type of product that as soon as you pick up or feel you can tell it's of a very high quality. Could not be happier.
- justin (Amazon Reviewer)


How did I ever live without this???
I work at a desk job 60-70 hours per week, so I would pretty much not get any exercise at all without this. It's the hit of the office! My coworkers fought over who could borrow it while I was on vacation. It's great quality, dead silent, and comfortable to use while working (I just had to lower my chair a bit, so my knees wouldn't hit the desk). I use it at work during the week, and bring it home on the weekends. It's addicting! I love, love, love this and would recommend it to anyone
- A. Hale. (Amazon Reviewer)


Corporate Attorney Endorses DeskCycle
I love the DeskCycle. I'm a corporate attorney who is stuck in the building 15 or more hours a day. I frequently can't get to the gym, but the DeskCycle has enabled me to burn calories and get a cardio "pump" during the day without leaving my office. The DeskCycle is quiet and discreet. No one knows it's there, but oh what a difference it's made in my quality of life, attitude and fitness. I track my daily progress (i.e. Miles, calories burned) in a marble notebook, which I call my DeskCycle log. It is a genius invention and well worth the cost. Thank you, DeskCycle!
- Thomas Smith (Amazon Reviewer)


I bought this Deskcycle after looking at many other exercise bikes. I have RA and my knees are pretty bad so I needed something smooth and low to the ground. This is exactly what I needed! It is super smooth, really quiet, and sits lower to the floor than other pedal exercisers. I use it at home in front of the TV and is so great for keeping my knees flexible and less painful. It does not slide around at all and is a very solid piece of equipment. Highly recommended if you are looking for a way to keep up some exercise level at no impact or stress the the knees.
- Robin (Amazon Reviewer)


This thing is addictive. I got it last week for my birthday present to myself, and have it under my desk at work. I have a very sendentary job so I was looking for something I could do to get moving and still work. I found this, and thought that maybe the cycling would be distracting. I read the reviews and decided to give it a try. I love it. I don't have to tether it to my rolling chair, and can just cycle away. The motion pumps more blood to my brain, and I don't have foggy thinking in the afternoons any longer. I don't notice the cycling, so it's not distracting. My desk is 27" high, and my knees don't hit it at all. It's completely quiet.
- "TheHeights" (Amazon Reviewer)


Excellent product, well built, can be made very easy up to very hard. Perfect for people who are in front of screens 24/7. I am an exercise addict and have not found any other product which my wife or son would use. They both LOVE this. My wife uses it in the living room watching TV. Son has been using it daily since the 2 weeks he's had his.
- Marc Glass (Amazon Reviewer)


Like biking uphill with weights on
Bought one for my brother for a birthday present. He was raving about it so much, I ended up getting one for myself. Pros: -Easy to assemble -Well made, durable -Small, doesn't take much space -Good resistance. I normally go between 2-4. 8 is really really tough. Like biking uphill with weights on :D Cons: -I didn't get this sooner Main reason I got it.. I spend about 1-2 hours a day gaming/watching shows etc. Although I do exercise a little bit, it's never really the amount I should be. With this desk cycle, I can zone out after work and watch TWD or something and get 45 minutes of cycling in :)
- Paul V. (Amazon Reviewer)


Addicting... in the best way
I can't seem to turn this thing off. I have been off exercise completely for a couple months due to a knee injury. This machine arrived about 2 hours ago. Took 20 min to assemble, and I have been pedaling on the lowest setting ever since,while surfing the internet. This is PERFECT for maintaining a minimum level of activity,while non-weightbearing. Very comfortable, and quiet, fits under my desk just fine.
Thank you thank you thank you, I may survive this to hike again!


This desk pedaling solution is the best! It's completely silent, the low pedaling height it just right for me to be able to pedal below my desk and not hit it with my knees, and the resistance is really strong! I could not be happier. If you want a desk pedaling machine that feels like a real, high quality exercise machine, this is the one you are looking for! So sturdy, only gets warm inside, high quality, just heavy enough to never slide away while I pedal but light enough that I can easily re-position it when I need to. It's just perfect. Everything I had hoped it would be.
- Bearzor (Amazon Reviewer)


I am 5'3 and my desk is 28 inches. My knees do not hit the desk. This pedals so smooth. I tried a regular set of pedals before trying these and there is absolutely no comparison. These are outstanding.
- MrsDub77 (Amazon Reviewer)


The DeskCycle exceeded my expectations. It is well made and sturdy and fits easily under my desk. It provides an excellent workout throughout the day. Also, the customer service of 3D Innovations was incredibly responsive and helpful.


Easy to Assemble/ Easy to Use
I'm a huge multi-tasker. Although I enjoy TV, working on the computer, etc., if I can get something done at the same time, I'm all for it. This helps immensly with exercise! It's very easy to assemble and is very quiet. The attachments on it are easy to use. I'm feeling less guilty with working late into the day instead of going for a walk now.
- ag218 "jewelry girl" (Amazon Reviewer)